The Insider
at Edinburgh Festival Fringe
4. - 27. August 2023
Award-winner
of The Scotsman's Fringe First Award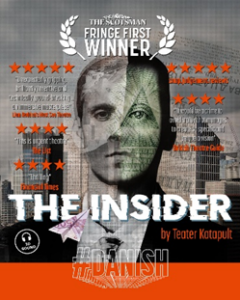 Nominations
The Offies 2023 OffFest Award

Finalist The International Fringe Encore Series;
Soho Playhouse, New York 2023/24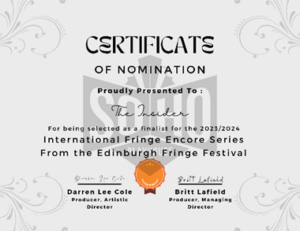 Holden Street Theatres'
Edinburgh Fringe Award 2023 
Look into the human face of greed
"If the poor die then the rich die too. Thats how it all interconnects."
Get into the mind of a young financier who helped devise the world's biggest coup against the treasuries all around Europe. Experience the money-bloodshed and the dilemmas.
⭐⭐⭐⭐⭐ "Unexpectedly gripping, brilliantly inventive and technically ground-breaking. An immersive masterpiece." (Liam Rudden's Must See Theatre)
⭐⭐⭐⭐⭐ "Exceptional" (Mervyn Stutter's Pick of The Fringe)
⭐⭐⭐⭐ "Thrilling. Excellent Show. Compelling to watch." (Financial Times)
⭐⭐⭐⭐ "It would be a crime to avoid a play that manages to create so specific and unique a vision" (British Theatre Guide)
⭐⭐⭐⭐ "This is urgent theatre. Vital work about corruption. Exposes both human and systematic wickedness." (The List)
THE INSIDER is a sound-intense and suspense-filled performance combining 3D and cinematic sound, live acting and video projection. It is about deception, genius, greed and the cum-ex tax scam!
Get inside the frontal lobes of a young financier who helped devise the world's biggest robbery of the treasuries of the European states amounting to more than 53 billion Euro!
THE INSIDER is based on the german state's crown witness in the real international case of dividend tax fraud. It is told through a young family father and tax lawyer in one of the world's largest banks. You'll join him from his starting point as an ambitious freshman with an ingenious interpretation of the tax laws, leading to a bloodbath of state-treasury-looting … At some point he decides to switch sides and help the police catch an extensive network of criminal accomplices. A network of people instrumentalising the criminal methods sucking at least 53 billion Euro out of European treasuries … a network affiliated with some of the world's largest banks.
We are part of his transformation; how he comprehends and justifies robbing billions of Euros that were supposed to fund the welfare for ordinary people like you and I.
With headphones on throughout the performance, you'll experience the insider live on stage inside your head – with 3D sound (binaural sound), cinematic sound and multiple characters in your ears. Topped with video design and music you get a mindful and sensual experience about predators hunting the money paying for your welfare!
Reviews from Denmark
⭐⭐⭐⭐⭐⭐"Highly relevant play at a time when fewer and fewer people own more and more of the money in the world" (Kulturkongen.dk)
⭐⭐⭐⭐⭐ "Mindful and sensual." (Ungt Teaterblod)
⭐⭐⭐⭐⭐ "Gifted, socially engaged performance." (Kulturkupeen.dk)
⭐⭐⭐⭐⭐ "Innovative and exciting." (Scenekanten.com)
⭐⭐⭐⭐"The decay of capitalism in a binaural soundscape that gives you the chills." (Sceneblog.dk)
⭐⭐⭐⭐"The monologues in THE INSIDER reflect the cynical soul of the financier." (Kulturnyt.net)
"It becomes particularly successful because the narrative does not just unfold in the classic 'actor stands in a setting and plays a text'-sense. The effects have been turned up well, and successfully." (Den 4. Væg)
⭐⭐⭐⭐ "The use of headphones and 3D-sound creates intimacy for the audience." (Iscene.dk)
⭐⭐⭐⭐"Successful interaction between 3D-sound and live theater." (Århus Stiftstidende)
NB! Flashing lights and smoke are used in THE INSIDER
"Christoffer Hvidbjerg Rønje is fascinating. He is like a werewolf in a suit. When he takes off his jacket and white shirt, he transforms into a wild animal, banging against the window that separates him from us. It is the window that saves us, otherwise he would have pounced on us. He is a wild animal that devours its surroundings. He is alone on stage surrounded by 3D sound in Johan Sarauw's direction, produced by Teater Katapult."
(Michael Svennevig)
Credits
Production by Teater Katapult
INSIDEREN
Cast
CHRISTOFFER HVIDBERG RØNJE
Voices
MARION REUTER
ZOE MILLS
BENJAMIN KITTER
WILLIAM HALKEN
…AND OTHERS
Playwright
ANNA SKOV JENSEN
Director
JOHAN SARAUW
Sound Designer
SUN HEE ENGELSTOFT
PETER ALBRECHTSEN
MARCUS AURELIUS HJELMBORG
Set and Video Designer
SIGNE KROGH
Lighting Designer
JENS HANSEN
Idea
TORBEN DAHL
Dramaturgy
SUSANNE HJELM PEDERSEN
DANIELLA O. SKOVGAARD
Translator
KIM DAMBÆK
Translating Consultant
JENNIFER RUSSELL
Assistant Sound Designer
MIKKEL NIELSEN
Sound Intern
NICOLAI PEDERSEN
Director's assistant
SOFIE KALLAN
Supporters
STATENS KUNSTFOND
AARHUS KOMMUNES KULTURUDVIKLINGSPULJE
WILHELM HANSEN FONDEN
AARHUS STIFTSTIDENDES FOND
WILLIAM DEMANT FONDEN